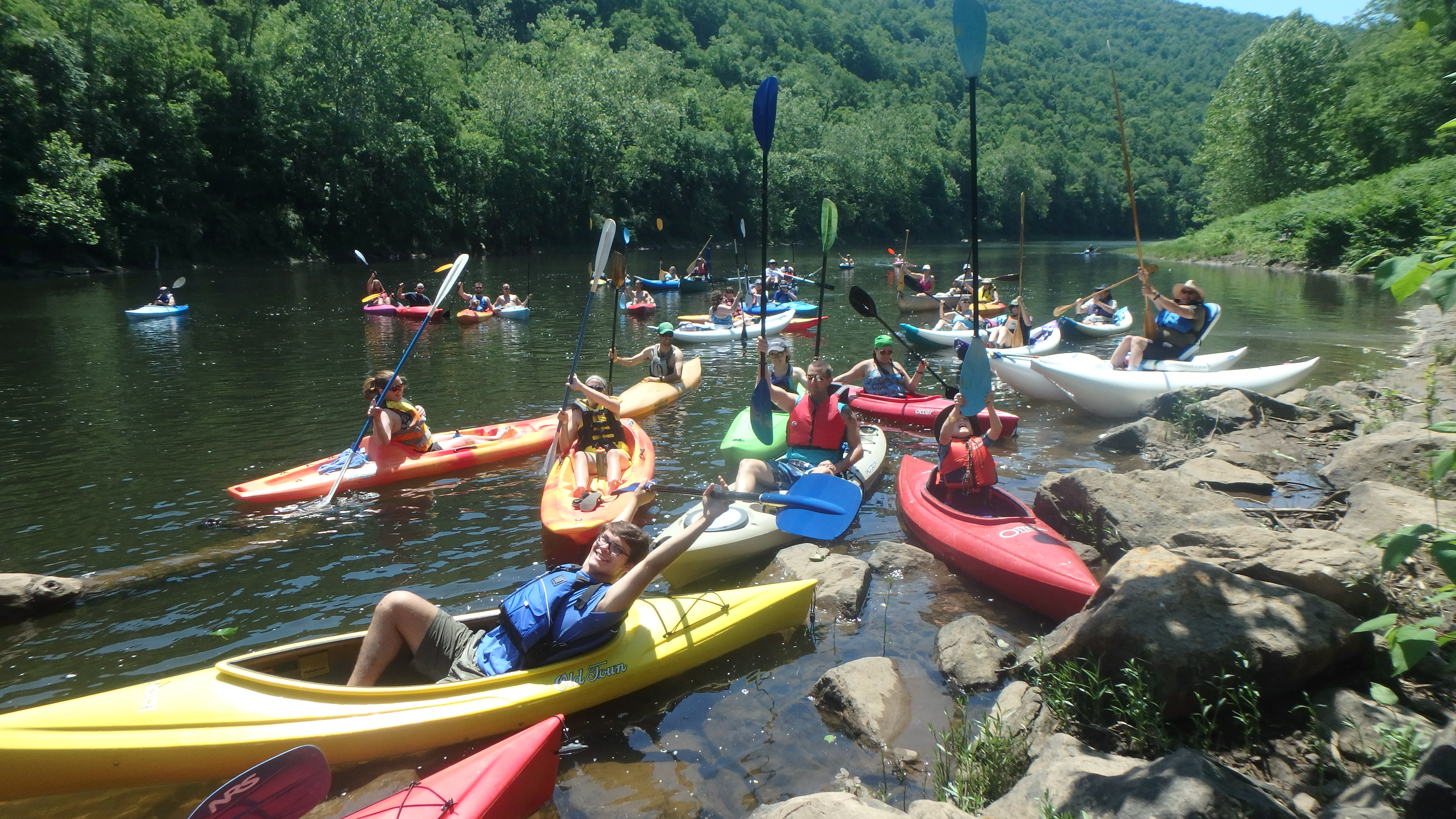 Thanks to all participants who attended the 2017 Meet the Cheat events!  
On June 3rd, 2017, National Trails Day, FOC and CRWT hosted the 2nd annual Preston County Meet the Cheat paddling event in Rowlesburg, WV.  A record 83 attendees floated 3.2 miles from Riverview Lounge to the Rowlesburg Park, where the were met with a complimentary picnic catered by the Rowlesburg Park, and live music by Paul Burger.  Registration fees for the first 25 participants needing boats and gear were free, thanks to a generous donation from the Preston County Parks and Recreation Commission.  Kayaks and canoes were provided by Blackwater Outdoor Adventures (BOA), along with paddling gear and a free shuttle from the Rowlesburg Park to the put-in.  
On June 10th, 2017, FOC and the CRWT partnered for the second year with the West Virginia Land Trust and Blackwater Outdoor Adventures to host the 5th annual Tucker County Meet the Cheat paddling event.  This year – an astonishing 230 registered participants took to the Cheat River to float from the newly renovated Holly Meadows public access point to St. George, nearly 8 miles.  The record set in 2016 was just over 100 paddlers.  At the post paddle party at BOA, participants enjoyed donated salads from White Grass Cafe, pizza and wings from CJ's Pizzeria, and homemade goodies by CRWT committee members Dave and Pam Ruediger and Janet Preston.  Live music was provided by members of the LocalMotive, a Davis-based trio.  CRWT volunteer extraordinaire Janet Preston collected prizes for a donation-based raffle from many local businesses.
FOC and the CRWT are beyond pleased with the level of public participation at both events! The Meet the Cheats are the main fundraisers for the CRWT; money raised at the events are used to maintain and improve public access points, print maps and brochures, and fund CRWT merchandise.  The goal of these events are to introduce the public to the fantastic recreational value of the river in their backyard, and bring communities together in celebration of our public spaces.  The Cheat River is just one of many gems in our great state – so show your pride in our home this week by visiting your favorite spot of Wild and Wonderful West Virginia!